Fireplace Service & Installation in Northern Virginia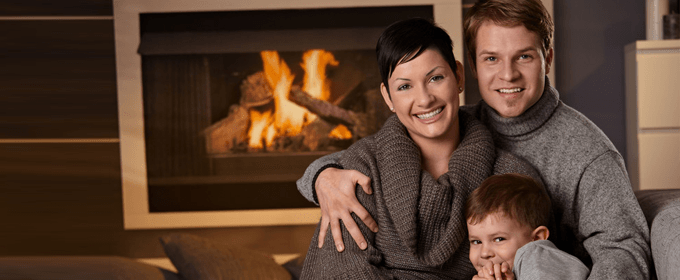 Always feel safe and warm
HomeLiving Fireplace cares about your family. If you suspect something is wrong with your gas fireplace, please contact our experts immediately. We always want you to be safe and secure in your home.
Fireplace Service
Northern Virginia's fireplace experts at HomeLiving Fireplace is here to help you find the solutions to all your fireplace needs. Our services include natural gas fireplace installations, maintenance, repairs, and inspections. Our technicians are highly trained and can repair all makes and models. We put safety first, so don't hesitate to call us any time you need an installation or repair service.
Natural Gas Log Insert Installations
We offer a wide variety of natural gas fireplaces, and we train our technicians with the latest in industry standards and technology. Before we install any type of fireplace, we work with homeowners so that they get the fireplace that best suits their needs. For upgrades, our technicians inspect your current fireplace before you make a decision. This pre–installation step will ensure that your new fireplace or insert meets all the local safety regulations and that it is up to par with building codes.
We also install fireplaces for new homes and additions, as well as freestanding gas fireplaces. If you are looking for an outdoor gas fireplace, we can help you find the model that best suits your needs. For quality service by a professional contractor you can trust, call HomeLiving Fireplace for all your natural gas fireplace installation needs.
Working with Gas Piping
While many homeowners are tempted to install a gas fireplace on their own, it is imperative that a professional handle every part of the job. Installing any heating appliance that requires gas piping should be handled by a certified technician who is trained to work with gas lines. Heating equipment that uses combustible fuel has to meet certain requirements to meet local building regulations for safety reasons.
Carbon monoxide leaks are a serious threat, which is why it is important to hire a heating technician for installations, repairs, or inspections. A certified technician will know how to properly install and maintain the gas piping and the ventilation system for any type of gas fireplace. Give us a call to schedule an appointment with one of our qualified gas heating technicians.
Propane Fireplace Installation
If you don't have access to a natural gas supply, propane fireplaces are one option for homeowners looking for a cleaner alternative to wood burning fireplaces. Propane fireplaces offer many of the same benefits as burning natural gas and none of the hassles of cutting, storing and cleaning after a wood burning fireplace. We can help you by going over the different options so that you feel confident in selecting the right type of fireplace for your home. We install a variety of propane fireplaces, and we provide inspections and maintenance for existing units. Call us if you would like to speak with one of our heating and fireplace experts.
Considerations for the Chimney and Flue Liner
Some gas fireplace models are vent free, which means that they do not require a traditional ventilation system. Rather than pulling the waste fuel out of the house through the chimney, a vent–free fireplace is designed to provide complete combustion so that there's no carbon monoxide leftover. This provides an added benefit for homeowners who do not have the extra space or money for a chimney installation.
In addition, without the need for a permanent ventilation system there's more flexibility in the location in which you can install the fireplace. Although all vent free fireplaces are equipped with an oxygen depletion sensor which shuts off the fuel source if the oxygen levels are too low in the home, it is still important that you have a working CO detector in place for added security.
Call us if you have further questions about what type of fireplace is right for you.
Call HomeLiving Fireplace Propane Fireplace Repair in Northern Virginia
If you are looking for propane or natural gas fireplace repair in Northern Virginia, and The DC Metro Area, call our technicians at Home Living Fireplaces. We repair all makes and models of propane and natural gas fireplaces and factory–built inserts. Don't forget to schedule your annual fireplace inspection before the winter arrives. We provide comprehensive fireplace services, so call today!