Transform Your Backyard Into An Outdoor Oasis
Custom Outdoor Kitchens and Living Rooms in The DC Metro Area
We can breathe new life into your home with a custom outdoor kitchen complete with a barbeque island, and pizza oven, or even with a brand new pergola to shade a comfortable outdoor living room.
Custom Outdoor Kitchens & BBQ Islands
Bring the warmth of your kitchen outside with a beautiful and functional outdoor kitchen. The beautiful weather we experience most of the year entices us to spend time outdoors. Show off your BBQ skills with an outdoor kitchen that is sure to impress.
Home Living Fireplaces and Outdoor Living can transform your typical outdoor gathering into an experience to remember with a unique outdoor kitchen and patio area.
From the smallest outdoor kitchen to the largest premier outdoor structure, Home Living Outdoors can bring the project through to completion. Our experienced designers will help you to create an outdoor kitchen that is beautiful, functional and will fit within your budget.
There is a lot that goes into designing and building an outdoor kitchen. You have pick the space on your patio, deck, or wherever you are trying to build it. In addition to picking the proper space you will need to see if a permit is needed in order to build it. You have to choose your counter tops, what appliances, the size. shape, even in some cases where you want to put the oven. Building an outdoor kitchen is tedious at times, but it is even more rewarding. At Home Living Outdoors we will assist you through every step of the outdoor kitchen process.
We are certified dealers for top of the line appliances from the leading brands in the grilling and outdoor kitchen industry. If you are interested in building a outdoor kitchen, contact us today to set up an appointment for your free estimate.
A well planned outdoor kitchen will allow you to relax and enjoy yourself while you entertain. No more running back and forth between your house and the guests outdoors when you have all of your cooking and entertaining supplies right there on your patio. Your new outdoor kitchen can be custom built to fit whatever your entertaining dreams are. Are you a master with the barbeque or do you want to focus on a bar area with fire pit for socializing? Or maybe you want it all. Whatever your unique entertaining style is, you can see your dreams come true with a customized outdoor kitchen.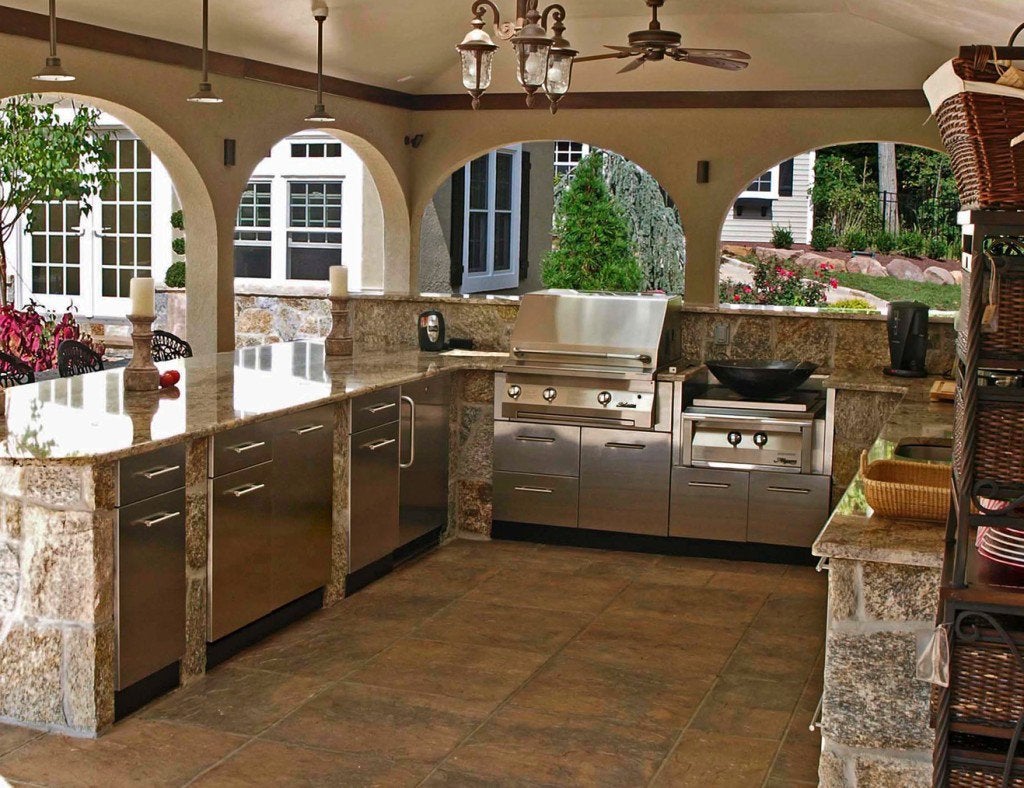 There are many options for building your outdoor kitchen. Concrete interlocking pavers are durable and versatile with endless possibilities for color, shape size and pattern. Their durability makes them a perfect surface choice for areas with high traffic such as patios and outdoor kitchens. Travertine pavers are also a good choice for outdoor kitchens particularly if the patio attaches to a pool area. Travertine does not hold heat and is therefore cool on bare feet. Their non slip surface is another benefit of using Travertine on your outdoor kitchen if there is a chance the surface may get wet.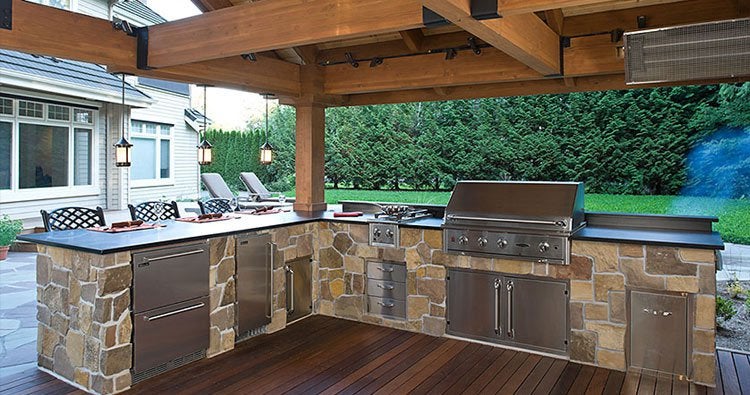 Whether you're looking for a full outdoor kitchen complete with a top-of-the-line BBQ Island, a comfortable outdoor living room sheltered by a custom pergola, or just a simple fire pit for a good, old-fashioned bon fire, we can bring your visions to life with superior construction quality.
We focus on providing the best possible information, materials, customer service so you get the most out of your investment. We also take a great deal of pride in our workmanship, and we make it a point to only work with other contractors and manufacturers who have a track record of building quality products, providing outstanding warranty support, and offering maximum value for the price.
We focus on providing the best possible information, materials, customer service so you get the most out of your investment. When you're ready to build your new outdoor lifestyle, give us a call at Home Living Fireplaces and Outdoor Living. 571-357-3473