When you are designing a new fireplace for your home, you may want to consider incorporating gas logs. A propane fireplace that is equipped with gas logs will provide you with the warmth and comfort of a conventional fire, with none of the hassle. Gas logs rely on innovative technology to provide you with instant fire on demand. A company offering gas logs in Chantilly can help you design the perfect gas fireplace for your interior space. After your gas log installation, you will be able to enjoy your fireplace, at any time. Read on for an overview of how gas logs work.
Gas Log Installation
A gas log is composed of piping and a set of ceramic logs. These logs can be placed in many different types of fireplace spaces. The pipes pump invisible gas through holes in the logs. When the gas logs are ignited, the ceramic logs will produce a steady flame. As propane or natural gas is pumped through the pipes, it burns harmlessly on the surface of the ceramic logs.
Igniting a Gas Log
Unlike the process of building a fire, igniting a gas log is a very simple procedure. Your igniting process will depend on the type of controls that are installed in your fireplace. Some gas logs can be switched on using a knob, whereas others can be controlled using a remote system. Your gas log installation specialist can design an ignition set up that is suited to your lifestyle and preferences.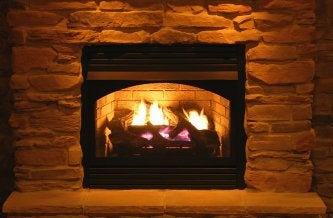 Flameproofing the Gas Log
Before a gas log can be used safely, the area around the log must be made flameproof. For example, your installation technician may need to line the interior of your fireplace with lava rocks or sand. These materials ensure that the fire does not spread out. Additionally, you may choose to have a glass panel installed to contain the gas log. Once these items are in place, you will be ready to use your brand new fireplace.