If you are seeking a great way to improve the comfort and appeal of your home, you may want to consider installing a brand new fireplace . A new stone fireplace will provide you and your family with a central gathering place in your living room, and your fireplace doors and stone mantel can complement the overall style of your interior space. A company specializing in the installation of fireplace in Chantilly can help you create the stone fireplace of your dreams. To help you get started on your new fireplace project, here is a look at some ideas for your brand new stone fireplace.
Incorporate Natural Elements
Natural stone can be used to provide your fireplace with a rustic look and feel. When you are designing your new stone fireplace , you may want to select stones that have a very natural look. Your stone mantel can also be accented by other naturally occurring materials, such as wood. By bringing nature into your home, you will create a charming fireplace that you and your guests are sure to love.
Choose Simple Lines
Smooth and seamless lines can provide your stone fireplace with a sense of tranquility and calm. If you are seeking a more modern look for your stone fireplace installation, you may want to choose stones that have a smooth and uncluttered look. By creating a fireplace that has simple lines, you can also allow other features of your living room to stand out.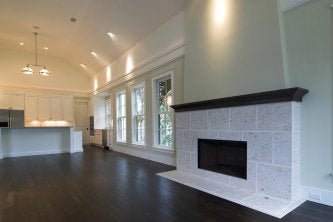 Consider Eclectic Ideas
Your new fireplace installation can be an extension of your unique style. As you are drawing inspiration for your stone fireplace, you may want to look at custom fireplace creations. As you are selecting materials for your fireplace, you will have the option of picking out mixing and matching stones and materials. With careful selection, different materials can be beautifully incorporated into your overall fireplace design.