If you are a homeowner with plenty of space in your backyard, you may be interested in designing an outdoor living room. There are a number of ways to design this type of space, but a few essential components are necessary: Be sure to include comfortable seating for your guests, some sort of visual stimulus, and outdoor heating in Chantilly. Here are a few tips for designing your outdoor living room.
Provide Warmth
It is important to provide a heat source in your outdoor living room, especially if you plan on making use of it all year round. It is just this type of situation in which a fireplace thrives. A natural gas fireplace can keep your outdoor living room at a comfortable temperature , and many models use blowers for improved heat circulation. This heat source is perfect for nights when you host a gathering for your friends and family as well as those occasions when you would like to simply enjoy some alone time sitting around the hearth.
Focal Point
A fireplace may provide more than just heat; it can also serve as an enjoyable and entertaining focal point. Consider dressing your mantel with candles to add a warm aesthetic to your outdoor living room. A focal point helps to tie the living room together by directing the attention of its occupants. While indoor focal points are typically pieces like televisions and wall art, you have a bit more freedom to explore your creativity in an outdoor living room. The focal point of an outdoor living room may be your swimming pool, a pond, or your cooking area where you set up your grill. The more room you have in your backyard, the more freedom you have to let your creativity go to work.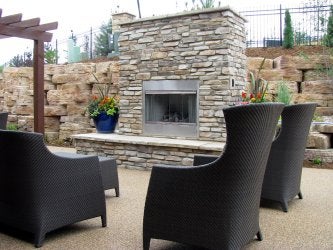 Plentiful Seating
Make sure that you have adequate seating before you invite guests to your outdoor living room. This means that not only should you have enough places for everyone to sit down, you should also have different types of seating to suit the various personalities of your friends and families. Provide benches as well as individual chairs for stationary and mobile seating.