A home should feel safe, comfortable, and cozy, and there are countless ways that you can achieve these elements. A warm fireplace in Chantilly with an inviting hearth and a decorated mantel is always a good place to start. Keep reading if you are interested in learning how to make your home cozy with a stone fireplace.
Multi-Purpose
A fireplace or stove can require a substantial amount of space within your home, even if you choose a small unit. If you want to make the most of your space it is a good idea to invest in a fireplace that can serve multiple purposes, especially if your living space is not particularly expansive in the first place. Consider going with a stone fireplace that features a raised foundation; working with the vertical space in your home allows you to leave some room to move around in smaller living spaces. You can keep extra logs or even family board games in the storage space that is available under the raised hearth. A multi-functioning stone fireplace can help save space while still offering a gathering area where the family can relax.
Focal Point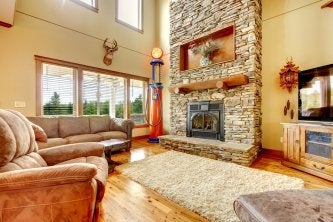 Fireplaces are natural attention grabbers and thus do an exceptional job of enhancing a living space's aesthetic appeal . Focus on this quality when you design your stone fireplace. Custom fireplaces can be made to fit the themes that are already present within your living space, allowing for a seamless integration when you have your fireplace installed. Consider the way you can design and decorate your mantel in order to further the existing aesthetic of your living space. If your family loves decorating for the holidays, the mantel above your stone fireplace is a perfect place to start.
Slow Release Soapstone
Your fireplace can't be too cozy if it doesn't keep you warm. Consider a dense soapstone fireplace that can heat your room slowly and steadily over the course of many hours. Since the soapstone absorbs the heat from the fire and then transmits it into the room, the heating properties may last long after the fire has stopped burning.