If you like the idea of hosting family gatherings or neighborhood get-togethers at your home, you will need a spacious room with comfortable seating and a focal point such as a fireplace in Chantilly. The more visually pleasant your fireplace design, the more positive its impact will be on the space as a whole. Keep reading if you would like to learn about a few design ideas for your stone fireplace.
High Ceilings
If you live in a home that has relatively high ceilings compared to most others, you are already familiar with the way in which they can create a luxurious atmosphere. While having a small stone fireplace topped with a modest mantel can work just fine in this case, you may be more inclined to take more full advantage of your vertical space. Consider having a fireplace installed with its hearth and mantel on the ground floor that reaches up through the top floor of your home. The gorgeous stone architecture of this singular pillar that extends vertically through the house will offer an aesthetic consistency from floor to floor.
Creative Hearths and Mantels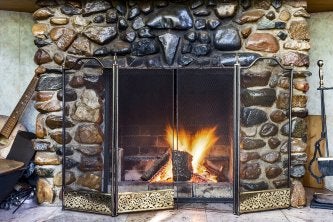 Fireplaces can help to substantially improve the aesthetic appeal and overall atmosphere of a living space. While many gas fireplaces tend to look similar, there are a few methods you can use to make the one in your living room uniquely your own. Whereas the prototypical fireplace has a square hearth under a flat mantel, consider putting your own creative spin on your fireplace by changing the shape of the hearth. You can opt for a rounded or arched hearth in order to set your stone fireplace – and your home – aside from the rest. You can also be creative with your mantel; consider lining up two smaller mantels above your fireplace, with a third section placed slightly elevated in the middle of the other two.
Bold and Impactful
Walls that are all painted the same solid color can be great, but they can be improved with the addition of a boldly colored stone fireplace. This structure can help to break up the solid expanse with another complimentary or contrasting color.