The luxury of comfortably sitting by the hearth in Chantilly is one that everyone should be able to enjoy; however, this luxury comes with hidden consequences if you burn wood in your fireplace . Fortunately there are several other kinds of fireplaces that can provide the aesthetics and outdoor heating you are looking for. Here is a brief overview of some of the alternatives to wood-burning fireplaces.
Gas
Wood-burning fireplaces present a number of hazards and drawbacks that other types of fireplaces do not; in addition to the fact that they hurt the environment by contributing to global warning, they also create toxic smoke that is harmful if inhaled. If you are really in love with the look of a traditional fireplace but not in love with the threats they pose, a gas fireplace may be the right choice for your home . Gas log fireplaces are safe and effective alternatives that can be just as aesthetically pleasing as their traditional counterparts. They are composed of gas burner modules and gas logs, which are made to look indistinguishable from real wood. These fireplaces are not completely infallible as they do produce small amounts of pollution, but the smoke is directed through a vent and out of the house; they are much less harmful to the environment than wood burning fireplaces.
Alcohol Gel
Individuals who place a heavy emphasis on aesthetic appeal over warmth and function may gravitate towards alcohol gel fireplaces. This type of unit can replicate the sounds and scents of a traditional fireplace, and different scents are available for purchase. Odorless fuel is also an option for those who do not enjoy the classic fireplace aroma.
Electric Insert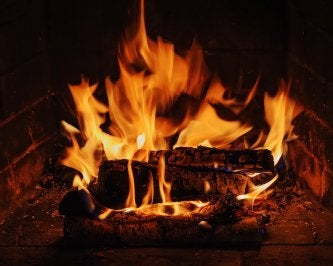 If you are especially concerned with your carbon footprint and environmental impact, an electric fireplace might suit your needs. Unlike gas and alcohol gel fireplaces, this type does not create any pollution at all. It is powered by electricity and newer models can create realistic looking flames with the help of advanced lighting technology. Electric insert fireplaces are also likely to enjoy a substantially longer working life than gas fireplaces.